ROTARACT :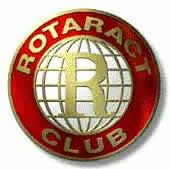 What is Rotaract?
Sponsored by Rotary, Rotaract is a club for young men and women aged 18 to 30 that offers you the opportunity to
> try new things
> meet new people
> help the community
A key part of the Rotary family, Rotaract will help you develop your skills and knowledge while making a valuable contribution to your local community. Nationally and internationally too, you will have the opportunity to get involved in a wide range of projects - all proving that through Rotaract we can all really make a difference.
You'll make lots of friends too. A truly international organisation, Rotaract was formed in 1968 and now has over 173,000 members in over 7,500 clubs worldwide. In the Greater London area alone there are currently five clubs, covering an area from Ealing to Hampstead, Hendon & Golders Green. This area - taking in North, West & Central London - is known as Rotaract District 1130.
Becoming a member
To become a member of the Rotaract Club of Ealing, you need to fulfil these requirements:
> attend two club meetings
> participate in one community event
Once you have fulfilled those you will be made a member at the next club meeting, you will be given a membership pack including a membership pin and detailed information about how the club operates. As a member you will serve on one of the club's commmittees, where you will participate in the planning and operation of projects and events. You will also be expected to attend club meetings regularly. Currently club membership, to cover administration and meeting expenses, costs less than £3 per month.
Who belongs to Ealing Rotaract?
A diverse club is a successful club, our members come from all over the United Kingdom and the world, work and study in a number of different fields and range in age from 18 to 30.
Here's some real-time statistics about our membership...
Gender
Female
62%
Male
38%




Member Ages
19
5%
21
5%
24
11%
25
11%
26
11%
27
16%
28
5%
29
26%
30
11%

Country of Origin
England
14
67%
France
1
5%
Poland
1
5%
Northern Ireland
1
5%
Portugal
1
5%
Norway
1
5%
Germany
1
5%
USA
1
5%
Total Members
21