Rotary on Stamps Introduction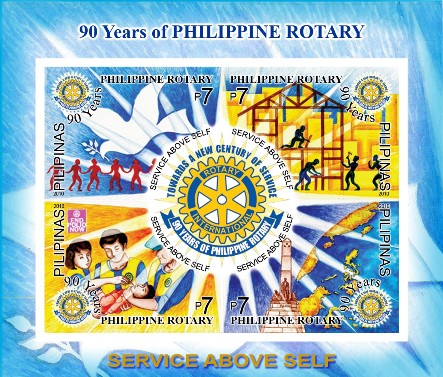 One of the most gratifying ways in which a Government can bestow recognisation is to issue a stamp in honour of an idea or an event, an individual or a group. This is particularly meaningful to an organisation such as ROTARY INTERNATIONAL because the mass distribution of postage stamps makes it possible for great numbers of people to participate, in a sense, in such an honour.
The first country which recognised Rotary by issuing stamps was AUSTRIA. In Austria stamps were isued in honour of the 22nd Annual convention of Rotary International which was held in Vienna, June 22-26, 1931. Six of the regular issues of 1929-30 were overprinted in various colours with the Rotary emblem and the words "Convention Wein 1931". The designs are Grassing, a small village in eastern Austria; Durnstein, in lower Austria in Seewiesen in Salzburg, Innsbruck, Capital of Tyrol province in West Austria; Worthersee, the largest lake in Carinthia, South Austria, and the National Library in Vienna. These stamps were sold at the convention at double the face value to aid the Rotary funds.
Next, Cuba, issued a stamp on May 18, 1940 to honour Rotary International's 31 st Annual convention which was held in Havana, Cuba. Brazil issued 2 stamps on May 16, 1948 to honour Rotary International's 39th Annual convention held in Rio-de-Janeiro. Japan issued stamps on 29-5-61 and on 13-5-78 to commemorate 52nd and 69th Annual conventions and Monaco on 20-4-67 to honour R.I. 58th convention and Italy on 23-4-79 to honour 70 to honour 70th convention.
Some countries like Chile, Belgium issued stamps on the occasion of Regional conferences and Syria, Urguay, Morocco, Togo issued stamps on the occasion District Conferences. Dahomey, Panama, Senegal, Mall, Newzealand, Mexico, Bermuda, Fiji, Togo, Ecquador, Cameroon, Tchad, Philippines, Peru, Australia, Laos etc., issued stamps to commemorate Rotary Club anniversaries.
On the occasion of Rotary International's Golden Anniversary i.e. 1954-1956, 27 Countries and postal authorities issued stamps honouring Rotary International.
Countries like LIBERIA issued stamps to commemorate Golden anniversary of Rotary International though there are no Rotary clubs in their country.
Coming to the Philatelic observance of Rotary International's 75th Anniversary in 1979, Sixteen countries and postal authorities released 27 commemoratives, including one souvenir sheet most of which were in some way related to the anticipated anniversary. And so far in 1980, more than 34 nations are releasing a total number of 107 stamps, including 10 souvenir sheets.
Several countries have not issued stamps to commemorate R.I. events but issued special cancellations. The first known such cancellations. The first known such cancellation was given in June 1927 to commemorate R.I. Convention held in OSTEND, BELGIUM.
India has also issued stamps honouring Rotary. But issued special cancellation, first of its kind, on 8-1-'77 to commemorate Dist. 315 Annual conference held at Vijayawada. Afterwards two districts have brought out special cancellations on the occasion of District conferences. Some clubs have brought out cancellations on the occasion of Philatelic exhibitions. Rotary Club of Vijayawada has arranged 2 special cancellations on the occasion of "Rotary Children's Philatelic Exhibition" on 14, 15 November 1979. The credit of bringing out special cancellation on 22-2-80 Rotary International goes again to Rotary Club of Vijayawada. The special cancellations and special cover brought out on the occasion is very much appriciated not only in India but also in all the Rotary countries.