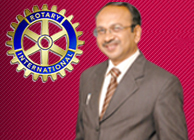 K.A.Ramayya
President(2008-09)
Rtn. Kalyan Banerjee, a member of the Rotary Club of Vapi, Gujarat, India ,since 1972, is president nominee of Rotary International for 2011-12.
Rtn. Banerfee said he like to see Rotary "blossom from being the world's most recognized service organization to being the most important NGO (Non Governmental Organizatio;n) in the world.
"Rotary, it is said, has the strength of a government and the tenderness of a parent," he added.
Rtn. Banerjee is a director of United Phosphorus Limited, the largest agrochemical manufacturer in India, and the chair of United Phosphorus (Bangladesh) Limited. He is a member of the Indian Institute of Chemical Engineers and the Amercan Chemical Society, a past president of Vapi Industries Association, and former chair of the Gujarat chapter of the Confederation of Indian Industry. He earned a degree in chemical engineering from the Institute of Technology,Kharagpur, in 1964. Rtn.Banerjee has served Rotary as trustee, commitee and task force chair, International Assembly group disscussion leader, president's representative, and district governor.
The chair of the Southeast Asia Regional Polioplus Commitee, Rtn. Banerjee has served as a member of the International Polioplus Commitee for many years and has attended international meeting with the World Health Organization and UNICEF in that capacity.
Rtn. Banerjee is a Majar Donor, Benefactor, and Bequest Society member, and has been awarded the Foudation's Citation for Meritorious Service and its Distinguished Service Award.
Rtn. Banerjee also serves as a trustee of Rotary club-sponsored trusts that supporat many educational and community development programs in india, including a 250-bed hospital.
He noted that Rotary's strengths included its ability to attract leaders from different vocations around the world, as well as its role in promoting peace. "Rotary needs to become the preferred organization for today's generation to join and participate in, to make the world better and safer and happier," he said.
Rtn. Banerjee's wife, Binota,is a social worker and Inner Wheel club member. The couple have two children and four grandchildren.