RCSS "Photo-Art " for Charity -The Bicycle Project - 22/23rd June 2013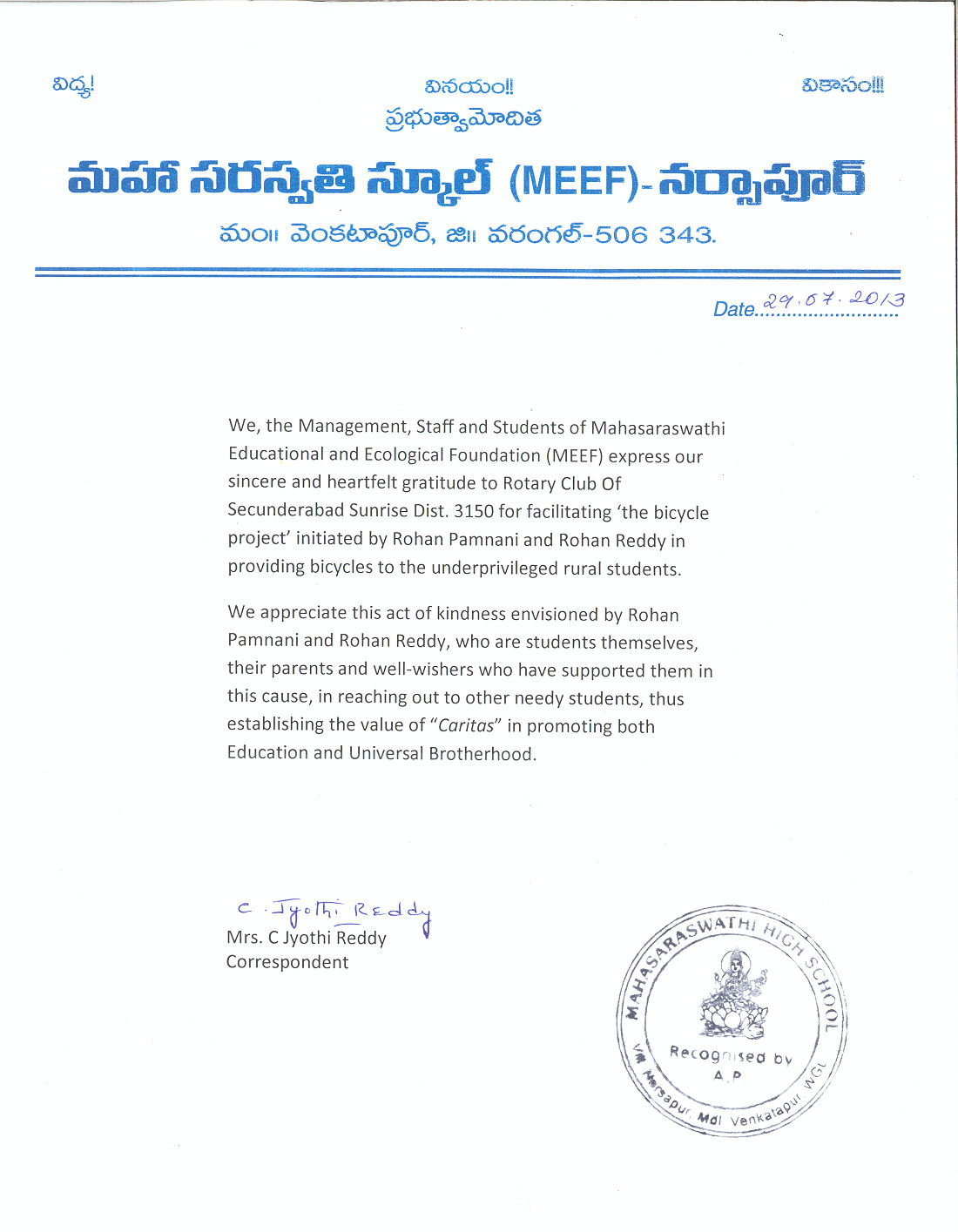 The Bicycle Project - Synopsis of the Project
It's our way of ensuring that a rural child reaches his school on time.
In villages across India, children living in far-flung areas walk great distances,
often weathering sweltering heat, thorny paths, and great hardship to get to school.
There are those days when they simply give up and stay at home.
Distance can become a divide-a great divide that keeps them away from proper education and improved livelihood.
We wish to remove this divide by gifting them a simple bicycle.
Past Experience
We, the Youth wing (Rohan Pamnani & Rohan Reddy) have initiated this project by buying 3 bicycles
from our own funds a few months ago.
These 3 cycles have been donated to ZP High school, Kethireddypally in Ranga Reddy district,
to be used on a rotational basis by the school.
The beneficiaries identified are deserving needy children who live at a distance which is beyond the reach of the school bus.
A happy Mrs.Uma Maheshwari, the principal of the school, now vouches for the fact that Saritha, Rajnikanth and Srikrishna are
always there at school on the dot.
What's more, they also bring along Lavanya, who is physically challenged and cannot ride her own bicycle.
But these are merely 4 children-there are many more like them who need to get to school.
What's needed to be done for this Bicycle Project?
1. We are looking to Raise Rs. 75,000/- by way of cash or kind donation
for covering at least 20 cycles for 2-3 schools identified in rural areas of Hyderabad & warangal.
Rs. 30,000/- have already been collected so far by sale proceeds of Photographs.
Balance Rs 45,000/- to 50,000/- are to be covered.
2. We have finalized IKON Art Gallery,Banjara Hills Road No. 12 space on 22/23rd June 2013 for selling Art size pictures (12"x18" size)
100 pictures have been donated by Rajesh & Rohan Pamnani (out of their own funding)
Ikon Art Gallery has agreed for a free space for this cause.
How can one Help ?
You could help in the following way :-
1. By buying some of these photographs (proceeds from the sale will be utilized for buying more bicycles).
Rs . 1250/- each.
2. By making monetary donations of your choice.
(Cost of Each Cycle is between Rs 3,500/- to Rs. 3,750/-)
Rtn. Lokesh Jain has agreed for one cycle.
3. By simply donating your old /unused bicycle.
In Good working condition to be delivered at Begumpet (at your convinence)
You will be given the number of our rural coordinator so you can keep track of how your donation has impacted a
child's life.
You will also visit the school and engage with the children to whom the bicycles have been donated.
Awaiting your approval and feedback for the same.
Address for
ICONART Gallery
1672 S.B.I bldg
Rd No 12
Banjara Hills,Hyderabad
Andhra Pradesh
India 500034
www.iconart.in
Regards
Rajesh Pamnani
www.rcss.in